Skip to Content
Solutions
As Prosthodontists, we are dedicated to helping our patients achieve their most natural-looking smile with the highest level of function and comfort. From the simple to the complex, restorations are designed and created with precision, skill, and a concentrated focus on esthetics, biocompatibility, and longevity. Although transformations can range from the subtle to the dramatic, in all cases, the final results look natural and the patient's overall smile and appearance are enhanced.
when choosing someone to care for your health, it's important to hear about the many different types of problems patients have presented to Dr. Ron Ritsco and his team for treatment solutions. We are proud of the overwhelmingly positive response from our patients and continual referrals to the outstanding results and quality care we provide. Our practice is happy to share several different types of problems and how we worked with the patient's wants and needs to ultimately solve these problems. We thank each of the following patients for letting us share their stories.
Problem 1:
" I have Tetracycline Stained Teeth"
Stained teeth due to medicine and old failing veneers did not block out the dark-colored teeth.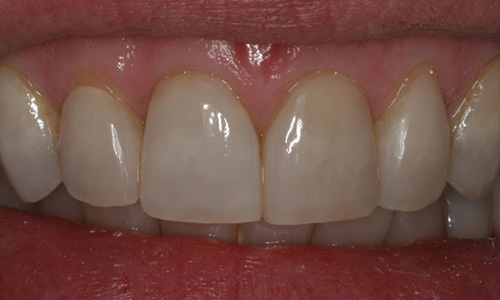 Solution 1:
8 upper and lower partial coverage metal-free restorations with minimal preparation and securely bonded to the patient's teeth.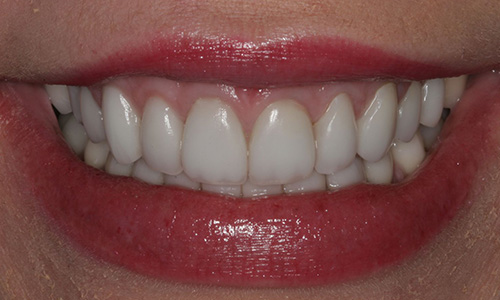 Problem 2:
"One upper front tooth looks very bad"
Two patients interested in veneers but just could not afford the treatment. They still had cosmetic concerns related to old restorations on one of their central upper incisors. Both had interesting stories of how they were hit in the mouth as kids resulting in fracture of one of their front teeth.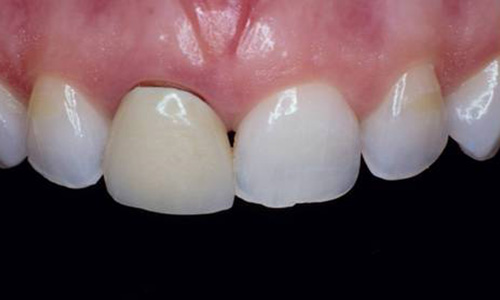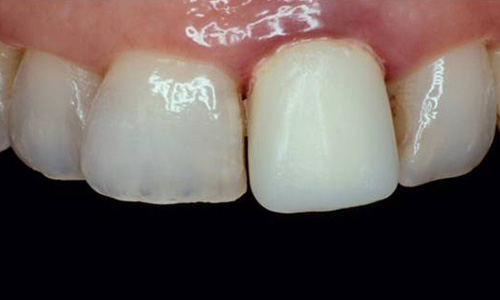 Solution 2:
One custom colored all ceramic metal free bonded crown with aesthetic laser-assisted gum recontouring to enhance smile symmetry.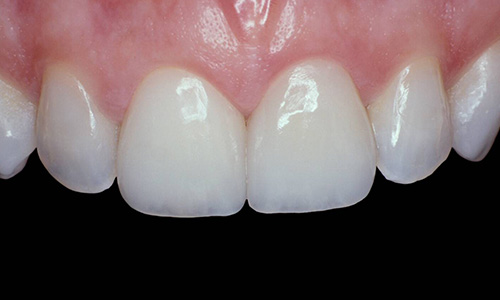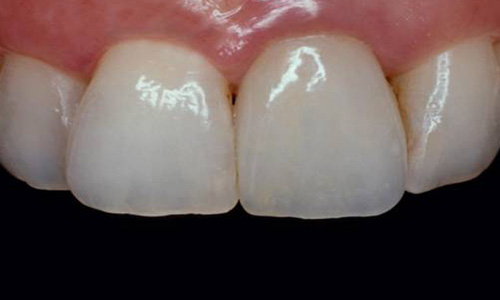 Problem 3:
"I like my smile but my two front teeth don't look right!"
Lack of symmetry in the smile due to shorter central incisors with unsightly old tooth-colored fillings.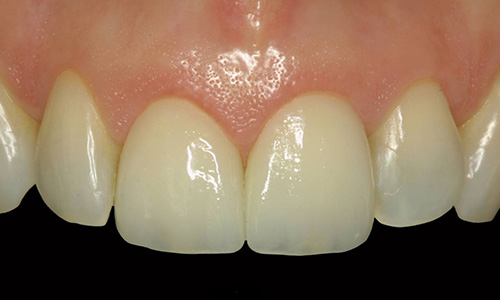 Solution 3:
Simple solution using two bonded veneers and direct bonding tooth-colored fillings. Laser-assisted smile lift was also performed to recreate ideal gum shapes.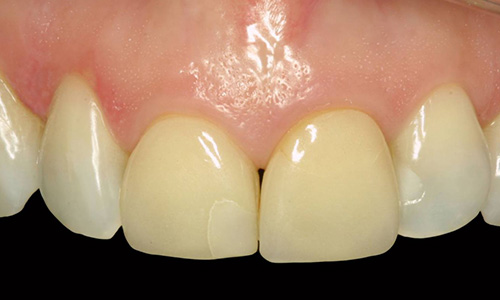 Problem 4:
" I snore so loud I keep my whole family up all night…they don't even want to go on vacation with me if they have to sleep in the same room".
It is estimated that more than 90 million North Americans snore while sleeping. Silent Nite® may be your answer to a good night's rest. Proven to eliminate snoring and OSA in eight out of 10 patients, Silent Nite is a thin, custom-made anti-snoring and sleep apnea device. Snoring occurs when relaxed and collapsed airways produce soft tissue vibrations during breathing. Silent Nite works by opening your airways, effectively stopping this disruptive habit. Worn as you sleep, special connectors on the Silent Nite allow the lower jaw to move freely.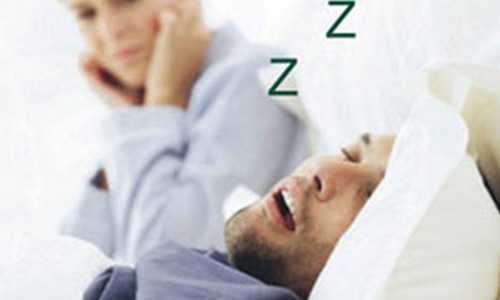 Solution 4:
In the past, treatment options for snoring included surgery, breathing masks, and oral devices. While surgery demonstrates low success in treating snoring, breathing masks — although effective — require expensive equipment and frequent adjustments in the lab. The Silent Nite anti-snoring and sleep apnea device, however, has demonstrated high success rates in preventing snoring and relieving sleep apnea and does not require additional parts or routine adjustment.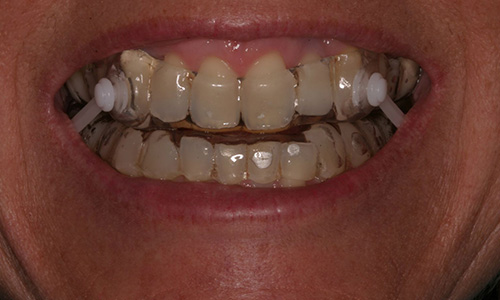 Problem 5:
"I have very bad teeth….everyone in my family does. I don't like the look and I keep breaking off the fillings my previous dentist did for me".
Years of poorly positioned teeth and a heavy end-to-end bit resulted in flexing of the teeth at the necks resulting in the clinical term, Abfraction. This is the loss or chipping out of the enamel or fillings at the necks to of the teeth from an over force generation.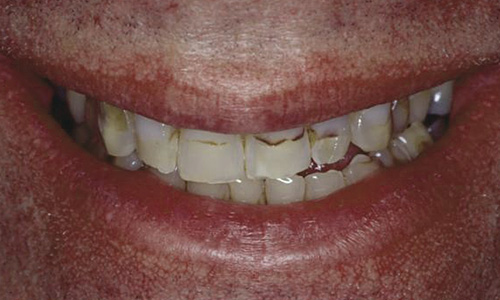 Solution 5:
A bite correction was done using state-of-the-art electronic bite sensors and 20 anterior veneers and crowns were used to realign his bit and create better anterior relationships for long-term stability of his teeth.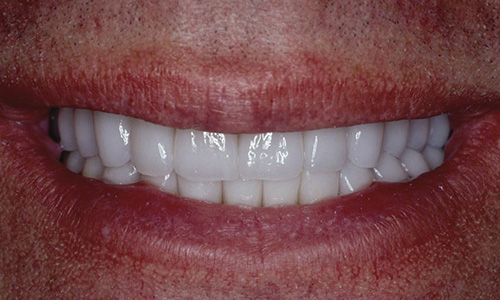 Problem 6:
"I thought about braces but my teeth in the right place would not make the pretty smile I wanted".
Crowded teeth and unaesthetic-looking teeth. The patient considered Invisalign but after realizing that her teeth would still require cosmetic improvement with the use of partial coverage bonded restorations she options for instant orthodontics.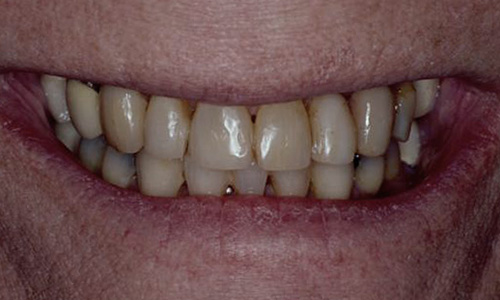 Solution 6:
10 upper and lower all custom ceramics veneer restorations were used to create this beautiful smile.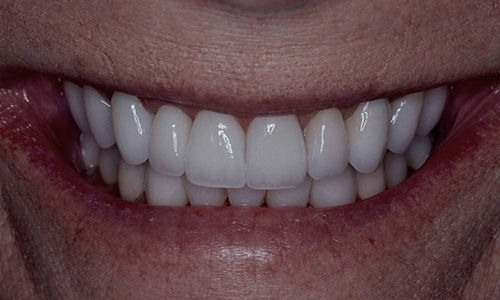 Problem 7:
"My Teeth are chipping away….is there anything we can do to make this look better and stop this from getting worse".
Years of sports and minor bumping of his teeth and some grinding at nght resulted in the wear and tear of his teeth.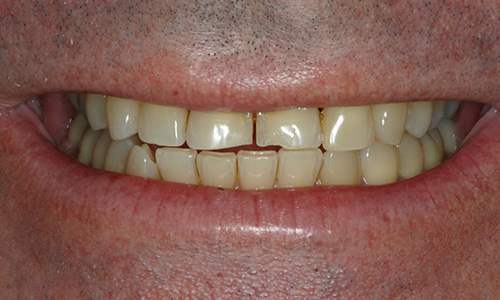 Solution 7:
Explained to the patient the effect of night and daytime clenching a grinding. Adjusted his bite to eliminate interference that act as a trigger point to cause the grinding of his teeth and restored the teeth using 20 conservative anterior veneers.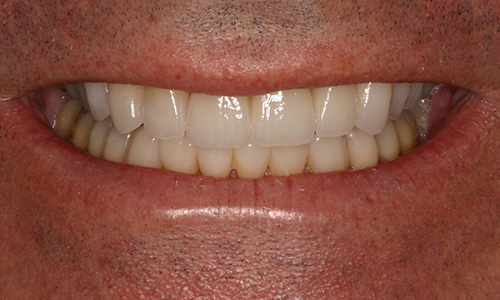 Problem 8:
" I am getting married and I don't like my smile".
Stained yellow teeth and old restorations gave this patient an aged smile much beyond her years.
Solution 8:
10 veneers with minimal to no preparation of the teeth were used along with in-office Zoom Whitening to make this smile ready for the big wedding day!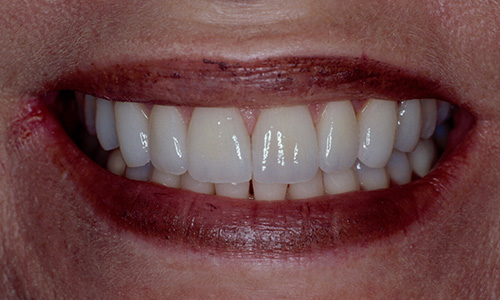 Problem 9:
" I can't hold my dentures in place…so I can't chew".
Severely worn out and ill-fitting dentures with minimal ridge left to support the removable teeth.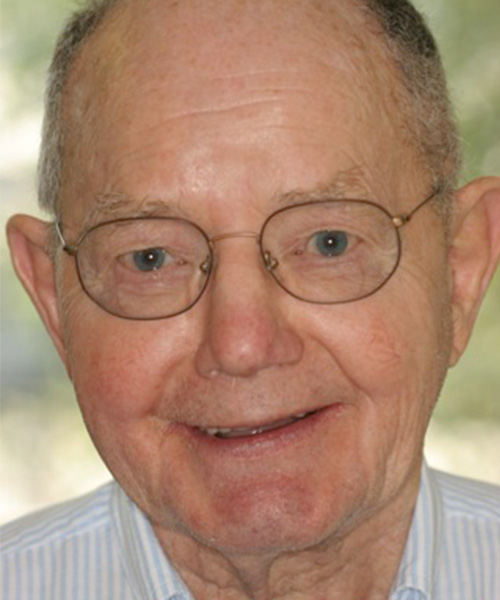 Solution 9:
Dr. Ritsco placed just 5 small implants into my jaw in less than an hour. The patient had no pain and the treatment resulted in the patient being able to chew again…. Patient told Dr. Ritsco…… "Feels like my own teeth again!".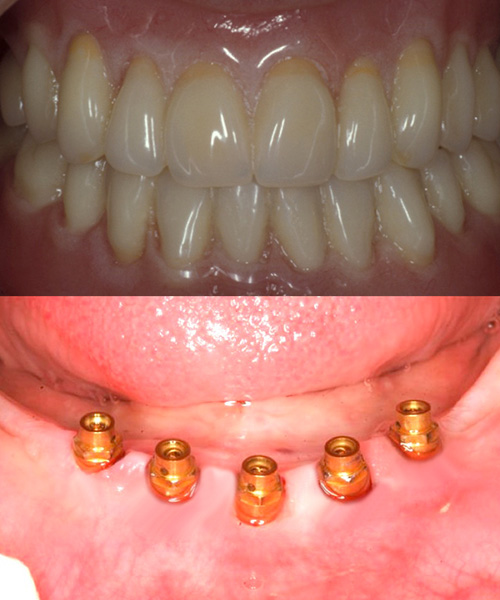 Problem 10:
"My Denture looks like dentures".
Many dentures are made in a way that they look like false teeth. Unless great care and artistry are used to set and sculpt the gum area into a nature look denture will look like plastic with plastic teet….very unnatural.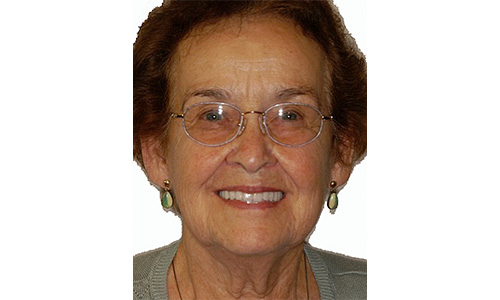 Solution 10:
All the principles of smile design used with veneers should be used with the layout of the gums and teeth when constructing a complete or partial denture. Just because it is a denture does not mean it has to look less than ideal and natural.